How Communities Can Rebuild after a Flood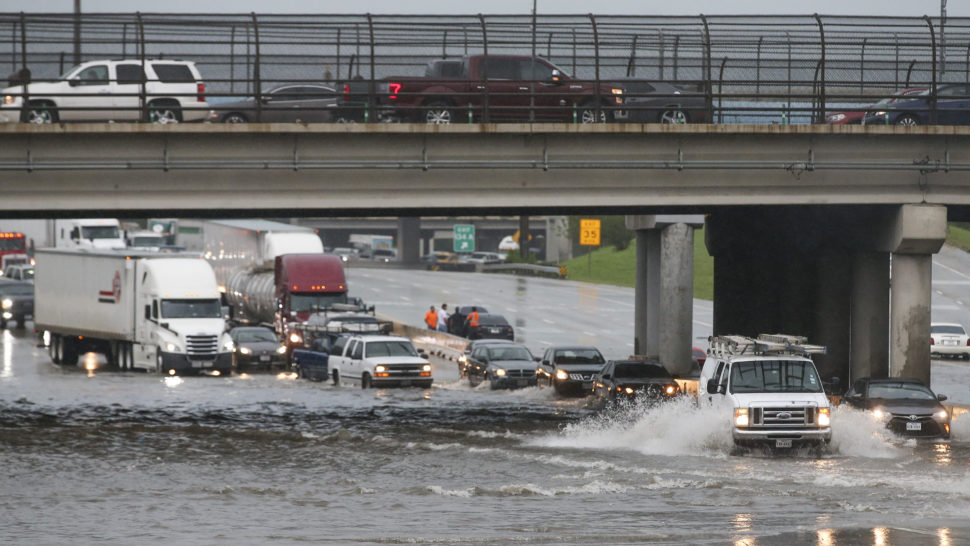 Tropical storm Imelda battered much of Southeast Texas with heavy rains. More than 40 inches of rain fell in just over 72 hours in Jefferson County, which is 80 miles east of Houston along the coast, according to the National Weather Service, making it the seventh wettest tropical cyclone in U.S. history. The storm left water-swollen streets, stranded cars, and prompted hundreds of rescues.
Much of the area is still rebuilding from Hurricane Harvey, where the Category 4 storm, dumped as much as 51 inches of rain in some parts of the state.
Follow these steps to start the clean up process and begin repairing your home after a flood.
Contact your insurance provider as soon as possible. Document the damage before you start making repairs.
Protect yourself. The water in your home may be contaminated. Wear waders, hip- or waist-high waterproof boots, and rubber gloves.
Remove water. Once you receive confirmation from your insurer to remove the water, use a sump pump and a wet vac. Open doors and windows.
Mitigate mold by removing wet items. Mold can develop within 24 to 48 hours.
Secure the property. Place boards over windows, secure tarps, and document your efforts.
If you hire cleanup or repair contractors, check references and be sure they are qualified to do the job. Check out CAI's Professional Service Directory to find a service provider.
For more information on applying for FEMA disaster assistance and flood insurance, click here.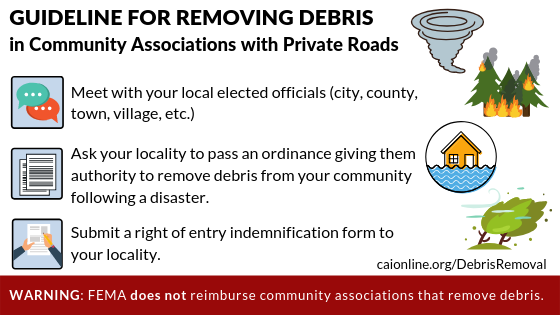 HOAresources.com explores questions and comments from community association members living in condominiums, homeowners associations, and housing cooperatives. We then assemble trusted experts to provide practical solutions to your most commonly asked, timely questions. We never use real names, but we always tackle real issues. Have a question or comment about your community association? Submit here for consideration:
Get More Expert Advice
Join CAI's online community for access to the industry's most in-demand community association resources.
Thousands of your peers are sharing advice.