CAI Comes Together to Help Surfside Condo Community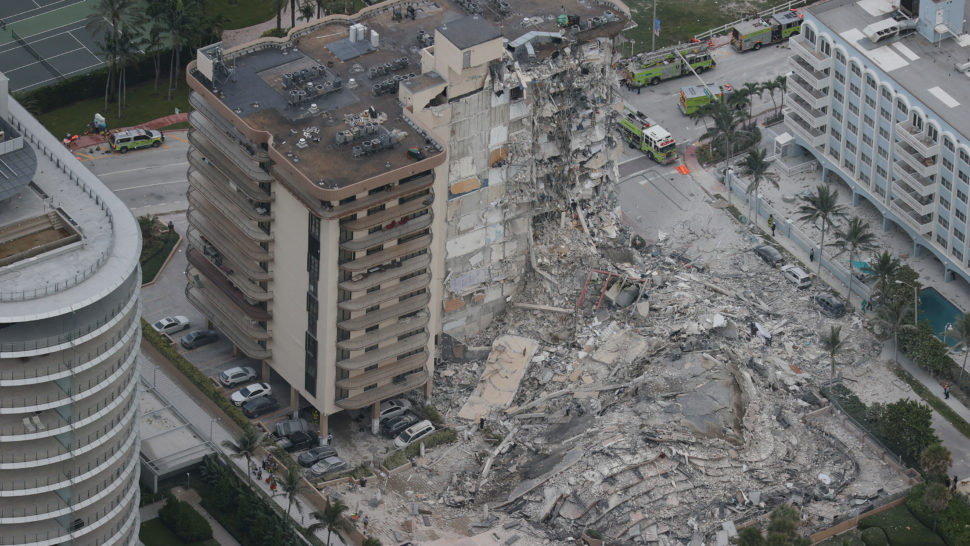 SURFSIDE, FLORIDA – JUNE 24: Search and rescue personnel work in the rubble of the 12-story condo tower that crumbled to the ground during a partially collapse of the building on June 24, 2021 in Surfside, Florida. It is unknown at this time how many people were injured as search-and-rescue effort continues with rescue crews from across Miami-Dade and Broward counties. (Photo by Joe Raedle/Getty Images)
The Champlain Tower South Condominium Association in Surfside, a town in Florida's Miami-Dade County, partially collapsed late last week. "It's definitely a difficult time down here with this tragedy hitting us in our backyard," says Steve G. Mason, CMCA, AMS, PCAM, president of the CAI Southeast Florida Chapter. "The support from the community has been overwhelming from all avenues."
Mason called an emergency board meeting the day after the event to discuss how the chapter could help. "We have a contact at the Red Cross that has been keeping us updated on the needs of the survivors, including items like clothing, towels, blankets, pillows, and hygiene products," he adds.
President Joe Biden is expected to visit the beachside condominium site that had more than 130 units later this week. He declared a state of emergency to help alleviate the pain and suffering caused by this disaster.
CAI believes the purpose of community associations everywhere is to bring people together, strengthen neighborly bonds, promote a sense of belonging, and build a place where we can connect. "CAI is devastated by the tragedy in Surfside, Fla. Members of CAI lived in and worked at the Champlain Tower South Condominium Association, and our entire membership is reeling," says Thomas M. Skiba, CAE, CAI's chief executive officer. "We have been closely following the information coming out of Surfside, and we continue to have hope in the rescue efforts. We also are pledging to help provide resources and information to help communities take steps to prevent this type of disaster from ever occurring again."
How can you help the survivors? The CAI Southeast Florida Chapter is assisting with the collection efforts for those affected by the Champlain Tower South Condominium Association collapse. Click here for ways you can show support to our neighboring community.
HOAresources.com explores questions and comments from community association members living in condominiums, homeowners associations, and housing cooperatives. We then assemble trusted experts to provide practical solutions to your most commonly asked, timely questions. We never use real names, but we always tackle real issues. Have a question or comment about your community association? Submit here for consideration:
Get More Expert Advice
Join CAI's online community for access to the industry's most in-demand community association resources.
Thousands of your peers are sharing advice.