Pets and the Pandemic: What it means for HOAs?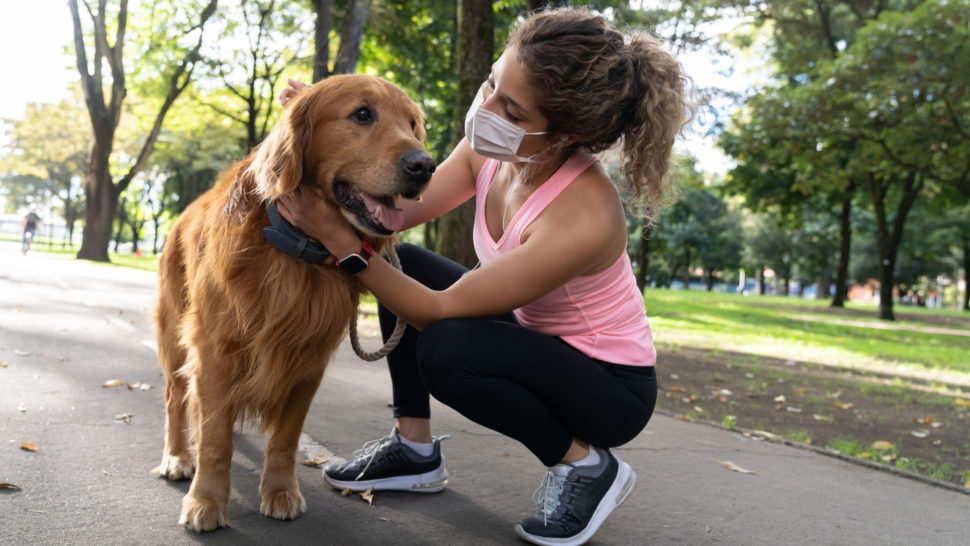 The pandemic brought one of the most challenging years in recent history, but one of the biggest upsides of the stay-at-home orders was the wave of people who adopted pets.
As people were isolated and looking for companionship to help improve their mental and physical health, pet adoptions soared. Canines topped the list of animals finding homes. In a January 2021 survey, Rover, a pet-sitting website, found that nearly half (49%) of people living in the U.S. said they got a new dog during the pandemic. Better yet, 64% of all animals were adopted from a shelter or rescue group or rehomed from another family.
Pet-related issues can be challenging for community associations in the best of times, much less in an anxiety-inducing year of uncertainty that has changed just about every aspect of our lives.
For some communities, the growing number of pets—especially dogs—has brought more complaints about people not picking up after the animals, not leashing them, allowing them to bark and whine excessively, and more. Some communities have upped fines and tweaked pet rules while others have fast-forwarded plans to install dog parks. Some are committed to better educating pet owners about rules and even trying to help them prepare their pet for when they return to work.
As we continue to adjust to the new normal, many say the influx of animals is creating more of a sense of community because owners who are walking dogs more and gathering at the dog park make the neighborhood feel more outgoing and sociable.
As more people return to work in offices and away from home, canine separation anxiety and the barking that usually comes with it is a very real concern, particularly for condominiums and other units with shared walls. Dogs love routine and, for many, that routine is changing.
Lisa Bingley, board secretary at a Chelmsford, Mass., condominium association says since more residents have begun to return to their jobs off-site, noise complaints are up.
Bingley and some pet-loving neighbors are working to educate pet owners on how to acclimate dogs to the change for the benefit of all involved.
Dogs that have been adopted since the pandemic can have issues being left alone, but separation anxiety also can affect dogs who have been in a home prior to the pandemic and have gotten used to their pet parent being home all day.
Bingley, an early childhood intervention educator who has a 3-year-old rescue Chihuahua, terrier, and Beagle mix named Oreo, drafted a fl yer about separation anxiety after speaking with local veterinarians and doing internet research. She posted it on the clubhouse bulletin board and is emailing it to owners who ask.
She also worked with the condominium newsletter committee to draft a pet policies reminder for the quarterly email. Among other things, it reinforces the fact that board approval is required before having a pet, that pets must be leashed in common areas, and that proof of vaccinations and an annual city dog license also are required.
Canine separation anxiety manifests through incessant barking or howling, scratching at walls and doors, and having accidents even if they are house-trained. It can be triggered when a dog is left alone after getting used to constant human contact.
According to the Humane Society of the United States, for minor separation anxiety, it's important to not make a big deal when you come home or leave home. Owners should ignore the dog for a few minutes when they get home, then calmly pet the animal. They also might consider an over-the-counter calming product.
For more severe problems, the Humane Society recommends taking the following steps:
▋ Use positive reinforcement. Teach your dog to sit and stay, then walk to another room. When you return, and if the dog is still calm, give him or her a treat.
▋ Create a safe place that will limit your dog's ability to be destructive. A room with a window and "busy" toys is better than total isolation.
▋ Consider asking your veterinarian about drugs that might reduce your dog's anxiety, or consult a professional animal behavior specialist.
▋ If you can't take the dog to work or leave it with a friend or family member, consider dropping it off at doggie daycare or a kennel when you're at work.
▋ Don't punish the dog; it will only make things worse.
HOAresources.com explores questions and comments from community association members living in condominiums, homeowners associations, and housing cooperatives. We then assemble trusted experts to provide practical solutions to your most commonly asked, timely questions. We never use real names, but we always tackle real issues. Have a question or comment about your community association? Submit here for consideration:
Get More Expert Advice
Join CAI's online community for access to the industry's most in-demand community association resources.
Thousands of your peers are sharing advice.