Making Diversity, Equity, and Inclusion a Priority in Community Associations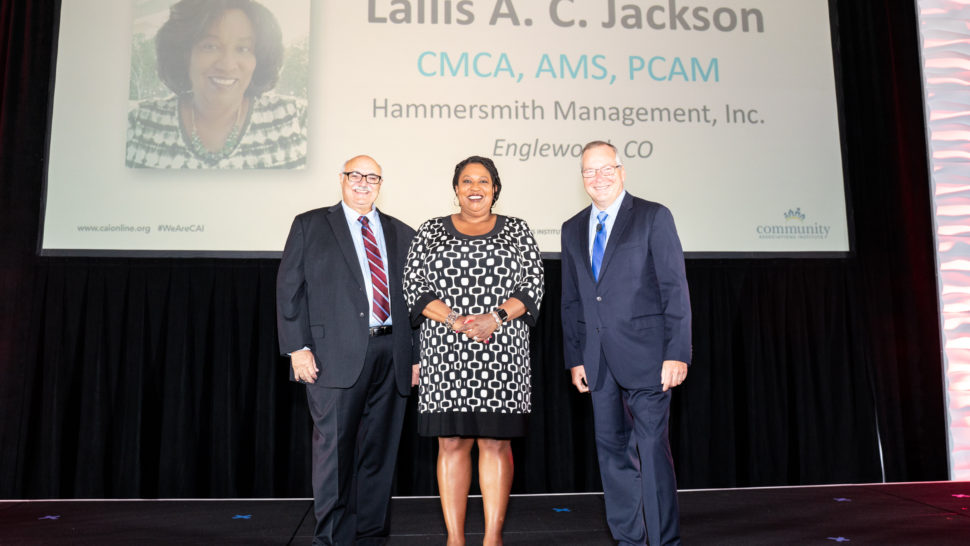 Pictured here: James H. Dodson, CAI past president, Lallis Jackson, and Tom Skiba, CAI CEO.
Decades-long social movements to address inequality have made progress in promoting diversity, equity, and inclusion in communities and workplaces across the country, but challenges remain. In recent years, individuals, communities, and professional business partners have taken steps to be more inclusive, fight discrimination, and level the playing field for all residents, board members, managers, or employees.
"There's a lack of sensitivity to the existence of cultural differences in the workplace," says Lallis Jackson, CMCA, AMS, PCAM, a community manager with Hammersmith Management in Englewood, Colo. "That lack of sensitivity leads to misconceptions, stereotypes, and characterizations of employees that are false. People receive things differently from different people, and they don't know it. Communication should be heightened and improved, but also understanding of each other," she adds.
"Community associations are diverse, and association leadership should be encouraged to learn about these biases and where they come from if they seek to foster more harmonious inclusive communities," says Jackson.
An exclusive report published by the Foundation for Community Association Research in April 2021, Creating Harmony in Diverse Communities, examines the extent of discrimination claims in community associations and suggests that condominiums, homeowners associations, and housing cooperatives with robust communications and active social events calendars have fewer complaints.
More than 1,000 community managers and community association residents were surveyed separately and asked about experiences regarding discrimination claims, how any issues have been resolved, and best practices for reducing complaints in community associations.
The most common type of discrimination claims in community associations are based on ethnicity and most frequently happen during neighbor-to-neighbor disputes, according to the report. Intertwined with discrimination claims are general complaints from residents in response to delinquent assessment collection notices or covenants compliance requests. The report shows that more than half of the discrimination claims (55%) were prompted by collection notices, violation letters, or social media posts.
The majority (59%) of community managers surveyed say there has been no change in the number of discrimination claims, while 53% report one discrimination claim in their community. Less than a quarter of respondents (24%) believe there has been an increase in complaints versus a decrease (4%).
Based on the report's findings, one of the Foundation's recommendations is to promote the importance of board training on diversity and discrimination management and how to handle complaints that emerge between residents as well as those directed at the board.
Sensitivity training can help better address potential discrimination claims by clearing up misunderstandings. "When you understand where someone comes from, or how they might have grown up in a very different setting with very different understandings of even the same words, you respond to them differently and with more compassion and empathy. This recognition and awareness is what fosters community," explains Jackson.
She notes that she has experienced firsthand a lack of sensitivity during her community management career. "I get judged all the time. I don't think I'm overstating it," she says. "Some people can accept direction from a person of color, and some people can't, and that's a very real phenomenon. I can say the exact same thing as someone who's not a person of color, and it's received completely different," she adds.
For Jackson, promoting diversity, equity, and inclusion goes further than just hiring community managers and administrative staff who are people of color. There must be an effort to have diverse individuals in upper management levels, which include providing the leadership development opportunities to people of color. Furthermore, she says that racism needs to be called out to move toward true progress. "It needs to be given its due acknowledgement, so that we can get to another place," she says.
HOAresources.com explores questions and comments from community association members living in condominiums, homeowners associations, and housing cooperatives. We then assemble trusted experts to provide practical solutions to your most commonly asked, timely questions. We never use real names, but we always tackle real issues. Have a question or comment about your community association? Submit here for consideration:
Get More Expert Advice
Join CAI's online community for access to the industry's most in-demand community association resources.
Thousands of your peers are sharing advice.