Redefining an HOA Retirement Community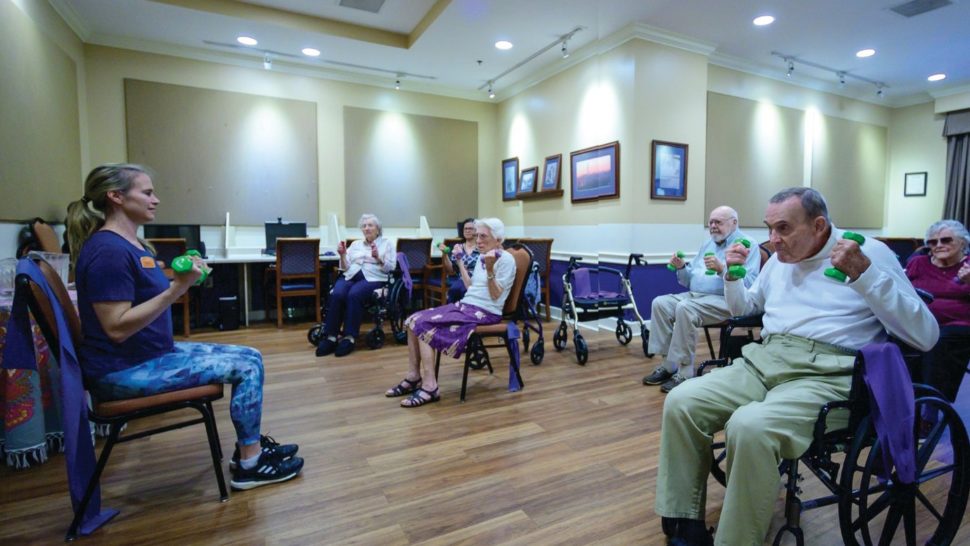 Retirement means everything but slowing down at the Jefferson in Arlington, Va., a vibrant senior community where residents are thrilled to age in place. To celebrate National Senior Health and Fitness Day, we highlight the Jefferson, which was built nearly three decades ago as one of Marriott International's senior-living services communities.
"They were one of the first major hostelries thinking about senior people, so they built a hotel that was amenable to seniors and built in two floors of healthcare facilities," says Lincoln "Linc" Cummings, former president of the Jefferson Homeowners Association's board, a member of CAI since 1973, and a CAI past president.
The influence of Marriott remains. There's a classy feel to the condo's east and west lobbies, a spacious common area where residents can enjoy conversation with friends and family, and a large dining room where on-site kitchen staff prepare seasonal meals each day.
In 2005, Sunrise Senior Living took over management from Marriott after the company decided to divest that part of its business. Sunrise is responsible for the services provided in the community, including healthcare, dining, transportation, weekly housekeeping, and linen services—all paid through a monthly service fee.
On the healthcare side, the Jefferson offers assisted living, memory care, skilled nursing, and rehabilitation services for residents who need them. "The one change that happened after Sunrise took over is that we changed the skilled nursing and rehab from a part long-term, part short-term rehab to almost 100% short-term rehab," Swanson notes.
There's also the benefit of having part of the Jefferson's staff be on-site so that they can tend to the needs of residents 24 hours a day. Management keeps an up-to-date form that lists residents' emergency contacts, next of kin, health conditions, and prescriptions, Cummings notes. Owners can reach staff in case of an emergency through a system that is integrated with pendants they wear around their necks.
The Jefferson Homeowners Association, on the other hand, manages the rules and regulations in the community, addressing things like noise complaints and architectural changes to the balconies. Residents pay the association a monthly assessment for maintenance and repair of the common areas and also pay 20% of equipment replacement and repair expenses for the rest of the condominium.
​Since the Jefferson was conceived around the needs of older adults, Cummings says there haven't been major structural adjustments needed to allow residents to age in place. "They (Marriott) were forward-thinking. They were incredibly insightful in that the designed standards of this building far exceeded what was necessary at the time," he adds.
The association is focusing on preventive maintenance and upgrades to certain elements, such as renovating the elevators. "We have incurred multiple millions of dollars of catch-up, and today we are very close to approaching a new condition of a quarter-century old building," says Cummings.
How does the Jefferson compare to continuing-care retirement communities?
Continuing-care retirement communities provide a tiered approach to the aging process, being part independent living, part assisted living, and part nursing home, according to AARP. Through continuing-care communities, healthy adults can reside in a single-family home, apartment, or condominium and then move into assisted living or nursing care as their needs change. The communities typically decide when residents need assisted living, which doesn't happen at the Jefferson.
These communities are the most expensive of long-term care options, requiring a high entrance fee in addition to monthly charges. The fees are dependent on the resident's health, the type of housing they choose, whether they rent or buy, and the type of service contract. AARP notes that there are three basic types of contracts:
LIFE CARE OR EXTENDED CONTRACT. The most expensive option that offers unlimited assisted living, medical treatment, and skilled nursing care without additional charges.
MODIFIED CONTRACT. Offers a set of services provided for a specific length of time. When it expires, other services can be obtained but for higher monthly fees.
FEE- FOR-SERVICE CONTRACT. The initial enrollment fee may be lower, but assisted living and skilled nursing will be paid for at their market rates. 
HOAresources.com explores questions and comments from community association members living in condominiums, homeowners associations, and housing cooperatives. We then assemble trusted experts to provide practical solutions to your most commonly asked, timely questions. We never use real names, but we always tackle real issues. Have a question or comment about your community association? Submit here for consideration:
Get More Expert Advice
Join CAI's online community for access to the industry's most in-demand community association resources.
Thousands of your peers are sharing advice.