Colorado Legislation Could Impact HOA Flag Restrictions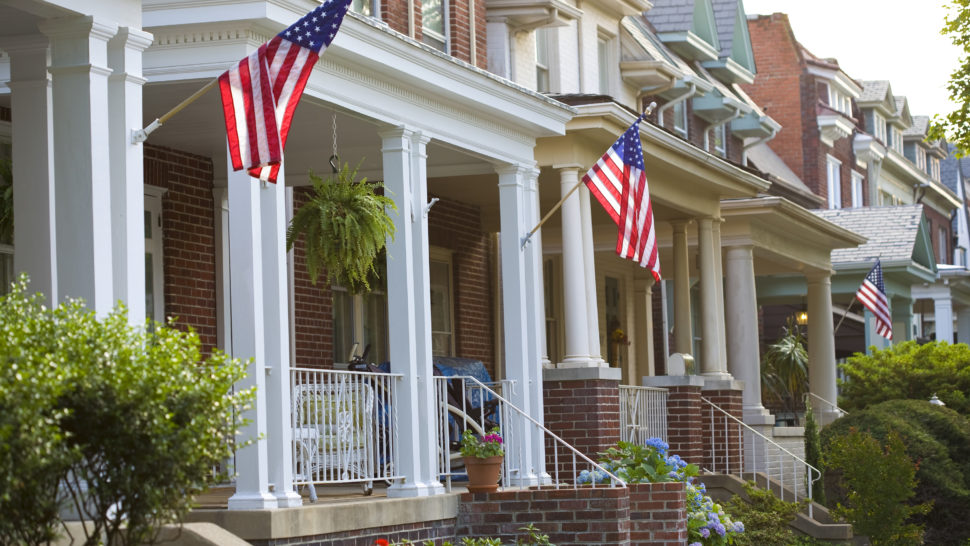 Residents' right to fly flags or put up signs in their yards or windows has increasingly become a hot-button issue in homeowners association. Whether it's the U.S. flag, a Pride flag celebrating the LGBTQ+ community, a Thin Blue Line flag in support of law enforcement, or a Black Lives Matter sign supporting racial justice, every community has different guidelines for displaying flags and signs. These specifications are conceived and enforced to promote uniformity and avoid the potential proliferation of all types of flags, banners, and emblems.
Under a bill being considered in Colorado, homeowners associations would not be permitted to ban signs and flags based on their content, subject matter, or message. HB 1310 would mandate that associations issue "reasonable content-neutral" regulations when it comes size, number, and location of signs or flags but cannot restrict their content—even political ones outside of election season. This would impact the approximately 2.3 million Coloradans living in the more than 10,000 homeowners associations in the state, according to data from the Foundation for Community Association Research.
"I have advised clients against creating content-based exceptions to no-sign restrictions because, while Colorado community associations are typically private, nonprofit corporations and are not state actors, content-based restrictions will invite challenge from those with differing viewpoints," says Lindsay S. Smith, a partner at Winzenburg, Leff, Purvis & Payne in Littleton, Colo., and chair of the CAI Colorado Legislative Action Committee.
"It is simpler to enforce a binary prohibition against signs and flags than it is to try to carve out signs and flags that are not offensive to anyone in the community," she adds.
Current Colorado law prohibits associations from restricting the display of the U.S. flag and military service flags, but it allows boards to bar the display of political signs except during an election. HB 1310 would repeal much of that language in favor of the content-neutral regulations for flags and signs.
CAI strongly supports eliminating restrictions that prohibit the display of a reasonably sized flagpole and reasonably sized, removable U.S. flag on a resident's exclusive use or limited common elements, so long as the flag is displayed in accordance with the Federal Flag Code, 4 U.S.C Sections 5-10, as amended. Additionally, CAI believes that community associations—not state laws—are best suited to determine the appropriate size, placement, and installation of flags and a flagpole.
"While CAI applauds efforts by associations and state legislatures to promote the flying of the American flag, we do not feel it is sensible to eliminate all mechanisms for consideration and approval of the size, placement, or installation of a flagpole," reads CAI's Public Policy on the Display of the American Flag.
Opponents of the Colorado bill say it opens up the possibility of a flag or sign that a resident doesn't agree with ending up across the street or next door to his or her home. A likely unintended consequence of HB 1310 is that it may allow communities to regulate political signs more strictly than current law permits, according to Smith.
"Because communities can limit the number of flags or signs, a community could limit the total to one or two," she says. "Current law allows display of a political sign for any political office or ballot issue that is contested in a pending election. With a dozen or more of these being voted on in every election, homeowners may have to pick and choose their advocacy to fall within the community limit."
If the Colorado General Assembly passes HB 1310 and Gov. Jared Polis signs it into law, "Communities will have to wash their hands regarding disputes and discrimination. They are not state actors with compelling state interests, and the law prohibits any regulation based on content," says Smith.
HOAresources.com explores questions and comments from community association members living in condominiums, homeowners associations, and housing cooperatives. We then assemble trusted experts to provide practical solutions to your most commonly asked, timely questions. We never use real names, but we always tackle real issues. Have a question or comment about your community association? Submit here for consideration:
Get More Expert Advice
Join CAI's online community for access to the industry's most in-demand community association resources.
Thousands of your peers are sharing advice.