Does Your HOA Have a Vaping Problem?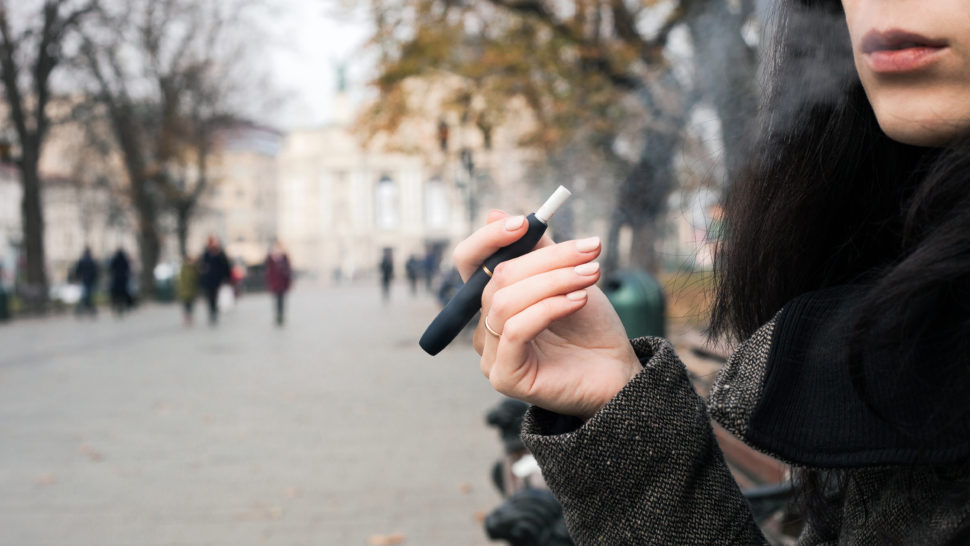 Electronic cigarettes or "e-cigarettes" were first introduced into the U.S. market in the mid-2000s but only recently garnered national attention when e-cigarette smokers began developing mysterious lung injuries, some of which have been fatal. As of July 2019, 8% of Americans reported vaping (smoking an e-cigarette) within the past week, with almost 1 out of every 5 adults ranging in age from 18 to 29 years old reporting they vaped regularly.
In response to the rise of vaping among both 18 to 29-year-olds and school-aged children the federal government raised the minimum age to purchase tobacco products, including e-cigarettes, to 21. As this subset of the American population becomes homeowners, homeowners associations that have only ever addressed the issue of traditional cigarette smoking in their governing documents may find themselves unprepared for the rise in vaping in their community. While there are smoking regulations on the federal and state levels, these regulations are limited in their scope and associations should review their governing documents to determine whether their documents appropriately address this growing issue.
Department of Housing and Urban Development's Smoke-Free Public Housing Rule
On February 3, 2017, HUD's Smoke-Free Public Housing Rule became effective, requiring all public housing agencies to implement smoke-free policies by July 31, 2018; however, this three-year-old rule has become outdated as it only prohibits the following tobacco products: Items that involve the ignition and burning of tobacco leaves, such as (but not limited to) cigarettes, cigars, and pipes.
Vaping only heats nicotine to create a water vapor and does not involve the ignition or burning of tobacco and, accordingly, does not fall under HUD's definition of prohibited tobacco products. This discrepancy is noted by HUD's smoke-free policy checklist, which lists prohibiting e-cigarettes as a discretionary option.
HUD's Smoke-Free Public Housing Rule does not apply to most associations as they are not public housing agencies, but it illustrates how many federal and state regulations that address smoking fail to encompass vaping.
What Steps Can Your HOA Take?
Associations that want to either limit or ban vaping in their community will need to take a careful look at their governing documents to determine whether they can do so through either rules and regulations or an amendment to their governing documents.
In Meadow Bridge Condominium Association v Bosca, 187 Mich App 280, 282; 466 NW2d 303 (1990), the Michigan Court of Appeals reviewed condominium bylaws that prohibited any animals without specific approval from the condominium association and a set of rules and regulations that prohibited any new dogs in the condominium to determine whether the new-dog prohibition could be implemented through rules and regulations or required an amendment to the condominium bylaws. The court held the rules and regulations prohibiting new dogs were a valid tool to implement the restrictions already in the condominium bylaws, stating the following:
The essential question in this case is whether the 1985 board action constituted a rule and regulation or an amendment of the condominium bylaws. While the board has the authority to promulgate reasonable rules and regulations, an amendment requires approval of sixty percent of the co-owners. Because the association did not hold a vote on the 1985 action, a finding that the action was an amendment would render it invalid and unenforceable. The trial court ruled that the board action was an amendment and accordingly granted defendants' motion for summary disposition. We find that the trial court erred.

Defendants suggest, and we agree, that a rule or regulation is "a tool to implement or manage existing structural law," while an amendment "presumptively changes existing structural law." See Black's Law Dictionary (5th ed). In this case, the existing original bylaw states that "no animals shall be maintained by any co-owner unless specifically approved in writing by the Association." The 1985 regulation is not inconsistent with the original bylaw and does nothing to change the general rule. The 1985 regulation merely sets out the board's decision to implement or manage the pet ownership rule by prospectively denying approval of new dogs.

Id.
Similarly, associations that want to limit or ban vaping in their community should work with legal counsel who specialize in community association law to review your governing documents and advise on whether you can do so through rules and regulations based on existing provisions in the governing documents or if instead you will be required to amend your governing documents.
Homeowners associations that already have smoking rules and regulations but also want to limit or ban vaping should also work with legal counsel to review the language in your rules and regulations to verify whether the language includes vaping or whether, much like HUD's Smoke-Free Public Housing Rule the language narrowly defines "smoking" and does not include vaping.
HOAresources.com explores questions and comments from community association members living in condominiums, homeowners associations, and housing cooperatives. We then assemble trusted experts to provide practical solutions to your most commonly asked, timely questions. We never use real names, but we always tackle real issues. Have a question or comment about your community association? Submit here for consideration:
Get More Expert Advice
Join CAI's online community for access to the industry's most in-demand community association resources.
Thousands of your peers are sharing advice.