Giving Back: How a CAI Business Partner Rallied Support for a Roofing Project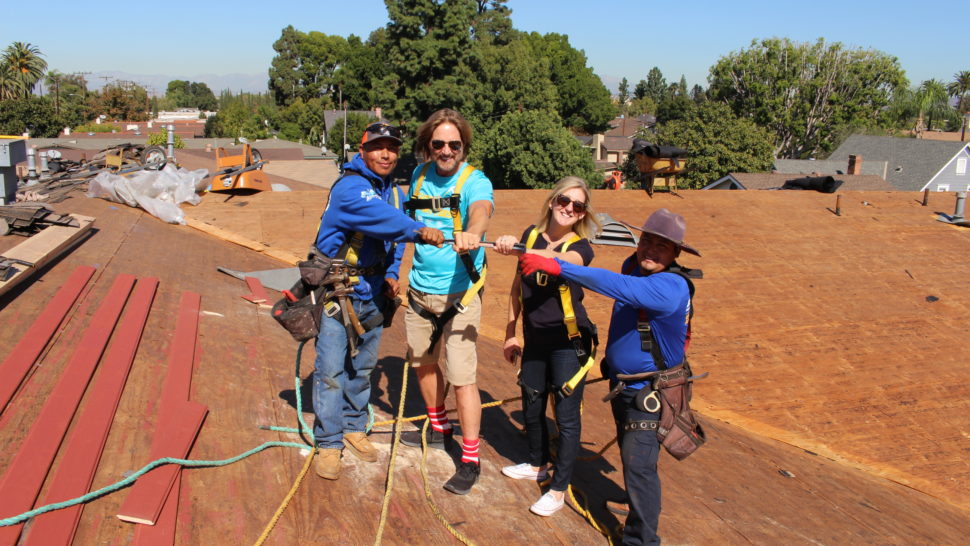 On the roof at House of Hope (from left): Antis Roofing and Waterproofing's technician Roberto Wences; CEO and Founder, Charles Antis; Director of Marketing and Cause, Cori Vernam; and technician, Lorenzo Espinoza.
For Charles Antis, founder and CEO of Antis Roofing and Waterproofing in Irvine, Calif., giving back to the community is part of his company's passion and purpose.
Earlier this year, Antis received a call from Anna Song, chief development officer at House of Hope in Orange County, Calif., asking for help replacing the building's 27-year-old leaky roof. House of Hope provides transitional housing to women and children, as well as sobriety support and life skills coaching to formerly homeless women.
"I was uncomfortable because I knew we were at capacity with our roof giving, coupled with California's drought season," he says. But Antis' motto is to never say no. He drove to House of Hope and created a 30-second video with some of his workers showing the condition of the roof. He briefly described the need and said, "If you guys can help, let me know." The video was sent out to all of Antis' colleagues in the local roofing industry. Within a few days, he had a host of companies offer their services to help.
The team took down the old roof and replaced it free of charge, giving House of Hope another 30 years to be protected.
"Our purpose is to keep families safe and dry," says Antis, who has been in the roofing business for 30 years. "When you hear of multiple families that don't have a safe place to eat and sleep, I'm compelled to act and share what our company has to offer." He adds that his company has donated its services to more than 100 nonprofit organizations.
For Antis, volunteering his time and skills are what make his company so unique. He notes that, on average, more than half of employees in the roofing industry will work somewhere else in a year. The company's ideology that "every nail matters" has helped him retain quality workers, says Antis.
"We have a corporate social responsibility. If we want to keep employees, we need to make sure we make a big impact and always err on the side of generosity," he says.
HOAresources.com explores questions and comments from community association members living in condominiums, homeowners associations, and housing cooperatives. We then assemble trusted experts to provide practical solutions to your most commonly asked, timely questions. We never use real names, but we always tackle real issues. Have a question or comment about your community association? Submit here for consideration:
Get More Expert Advice
Join CAI's online community for access to the industry's most in-demand community association resources.
Thousands of your peers are sharing advice.