HOAs Remain Popular with American Homeowners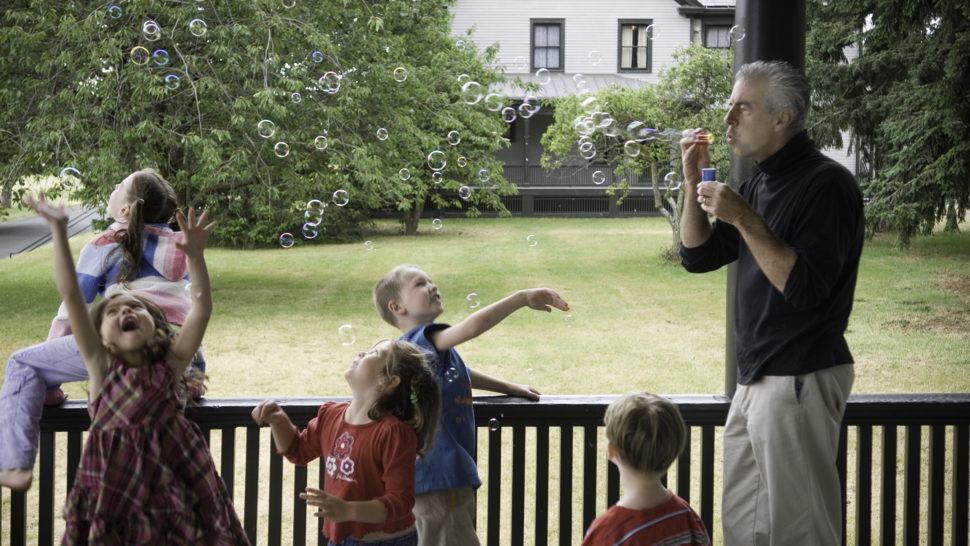 For the eighth time in 15 years, Americans living in homeowners associations, condominiums, and housing cooperatives say they're overwhelmingly satisfied in their communities, according to the 2020 Homeowner Satisfaction Survey published by the Foundation for Community Association Research for Community Associations Institute.
The biennial, nationwide survey is administered by independent researcher Zogby Analytics and provides a better understanding of how 73.5 million Americans describe their experience living in common-interest communities— from city-sized, master-planned communities and multibuilding condominium complexes to urban cooperatives and small homeowners associations built into tracks of open suburban spaces.
Nearly nine in 10 residents believe that their governing board "absolutely" or "for the most part" serves the best interest of the community. The vast majority of residents believe that rules in their communities protect and enhance property values.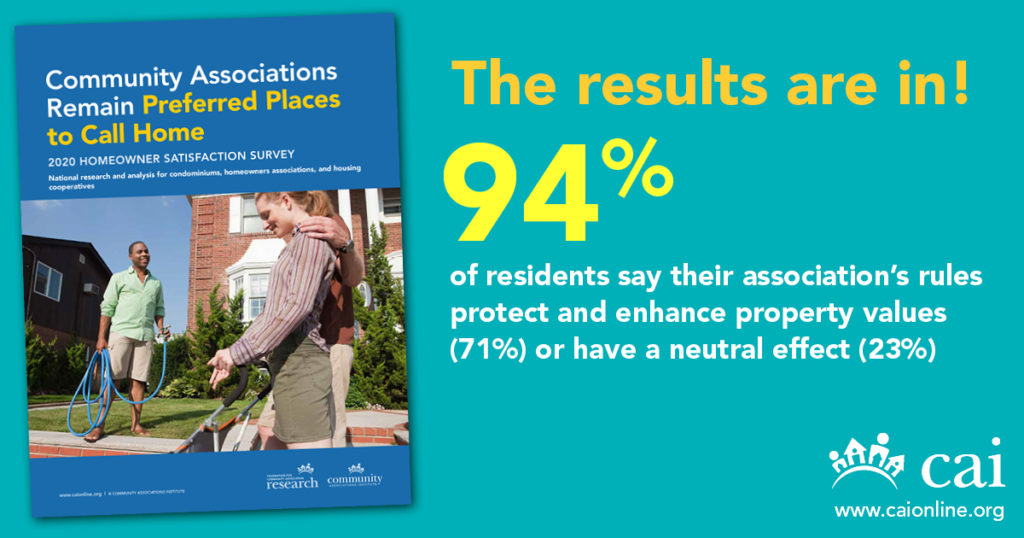 Results from almost identical national surveys conducted in 2005, 2007, 2009, 2012, 2014, 2016, 2018, and 2020 are strikingly consistent, except the 2020 research shows an increase in three areas compared to 2018. Satisfaction results grew an impressive 4% in overall experience, 5% in the role of the board, and 4% in the appreciation of community association rules.
"The biennial Homeowner Satisfaction Survey is the only public opinion report of its kind. The exclusive report emphasizes the clear success of the community association housing model," says Dawn M. Bauman, CAE, executive director, Foundation for Community Association Research and CAI's senior vice president of government and public affairs. "This satisfaction report, sourced by lawmakers, legal professionals, homebuilders, developers, and other community association stakeholders provides clear evidence of the success of local governance— neighbors electing neighbors and building community together—responsibly and effectively."
According to the report, cleanliness/attractiveness, safety, maintenance-free living, and maintaining property values are perceived as the best aspects of living in an association.
View more data from the 2020 Homeowner Satisfaction Survey.
HOAresources.com explores questions and comments from community association members living in condominiums, homeowners associations, and housing cooperatives. We then assemble trusted experts to provide practical solutions to your most commonly asked, timely questions. We never use real names, but we always tackle real issues. Have a question or comment about your community association? Submit here for consideration:
Get More Expert Advice
Join CAI's online community for access to the industry's most in-demand community association resources.
Thousands of your peers are sharing advice.